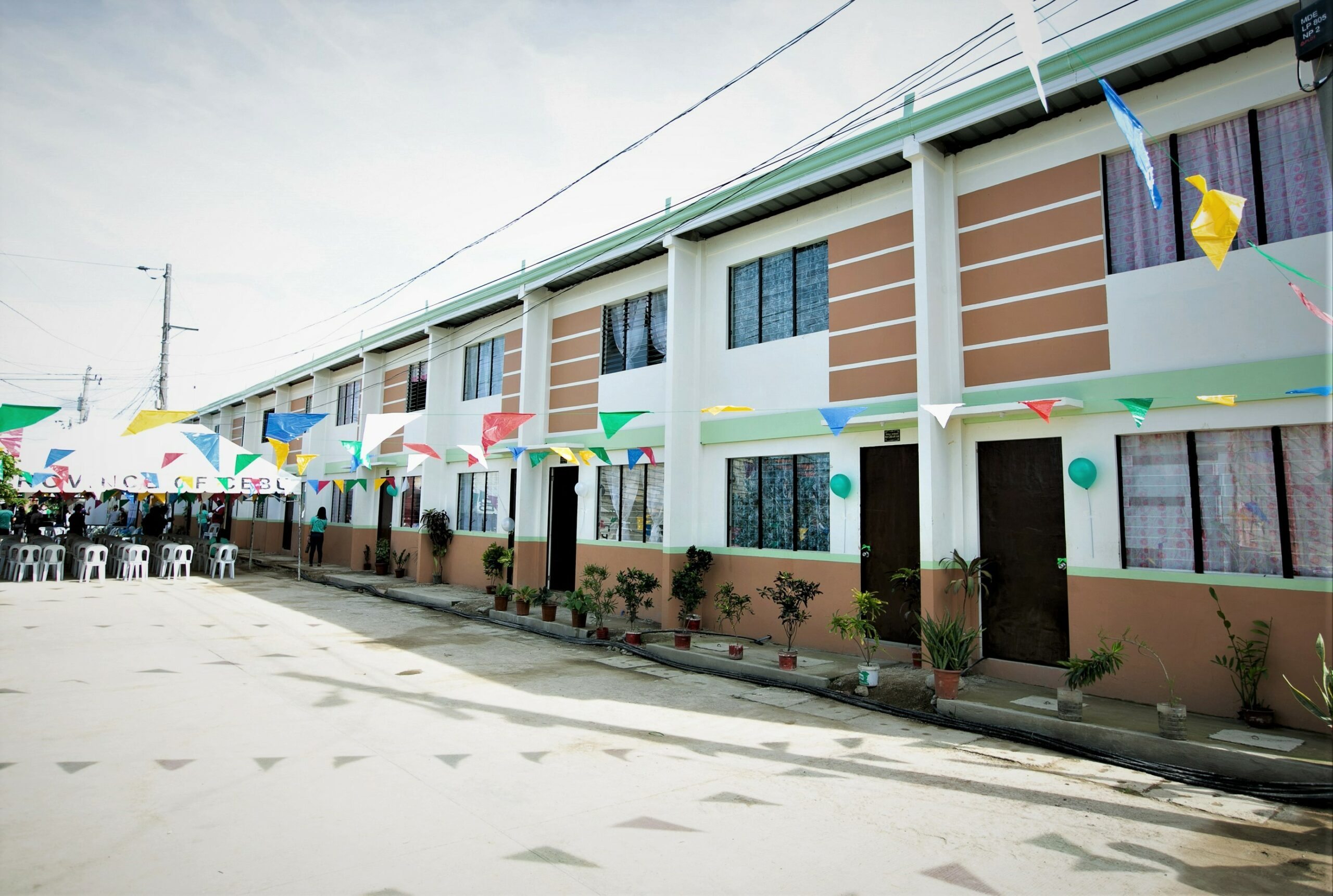 80 families receive new homes under Habitat Philippines' Paknaan Housing Project in Mandaue City
(MANDAUE CITY, CEBU) "I grew up homeless at a very young age when my mother passed away. Life has been so difficult for us. We were living along the creek. We never knew when we would be forced to leave," recalled Queenie Gacang, 27 years old. She added, "I prayed to have our own home, far from this place, to start anew, and to turn around my story completely."
Queenie is just one of the 80 informal settler families, who used to live along the Mahiga Creek and in other danger zones in Mandaue City, Cebu. For many years, they spent their lives in precarious housing conditions, fearing demolition and environmental hazards. But their lives are about to change through Habitat for Humanity Philippines, its partners, and donors.
Intending to help families move into safer, disaster-resilient homes in sustainable communities, Habitat Philippines has turned over 80 new homes to members of the Nawanao Riverside B Homeowners Association. The partnership project with the local government of Mandaue, the Social Housing Finance Corporation (SHFC) Region 7, and eight donors, relocates families to a new community in 6.5 Relocation Site, Zone Ahos, Barangay Paknaan.
"The Paknaan Housing Project is a testimony of how strengthening public-private-people partnerships could result in a concrete, impactful initiative and help vulnerable families rise from the agony of living in poor housing conditions. It took us eight years to complete this project due to challenges in site development. But we did not falter, and our now homeowners never lost their faith. By working together with a shared goal, these families finally have a decent home for the first time in their lives. It's always a surreal feeling to hand over a key that will open not only the door of their new home but also life-changing opportunities starting today," remarked Habitat Philippines chief executive officer Mardi Mapa-Suplido.
Joining the handover of new homes last July 12, 2022 was Habitat for Humanity CEO Jonathan Reckford, who visited the Philippines for a week-long set of events and activities in Manila, Negros Occidental, and Cebu. Mandaue Mayor Jonas Cortes opened the program, recognizing the efforts of the partners, who contributed to the completion of the project.
"We wanted to showcase that we can do a housing project at the heart of the city and this partnership with Habitat for Humanity is a wonderful inspiration. It is my hope that these houses will turn into homes where its residents can live with dignity to improve their quality of life. I hope that a vibrant community will emerge – one that is empowered and a partner to this city's growth. I would like to thank and congratulate all those who are involved in this noble effort. You have contributed to improving the well-being of these families, as well as to giving them hope for a better tomorrow," said Cortes.
The Paknaan Housing Project started in 2014 as part of the river rehabilitation program, which resulted from massive flooding in the area in 2011. Through the funding support from SHFC's Community Mortgage Program, the 6.5-hectare government land in Zone Ahos was devoted to the project, leading to the construction of 80 row house units.
"We are joined here today to witness the joy of our home partners as they receive the keys to their new homes. This success is not without the collaboration of our partners, most especially the local government of Mandaue City and Habitat for Humanity Philippines. Thank you for your heartfelt commitment to provide decent homes for underprivileged families. The Social Housing Finance Corporation remains 100% committed to be your partner in this endeavor," said Engr. Randolph Librando, Officer-in-Charge/Manager of SHFC Region 7.
Habitat Philippines' partners and donors helped fill the funding gap to complete the houses. Through its global partnership with Habitat for Humanity, SC Johnson funded 25 houses in their commitment to helping build safe, disaster-resilient homes and improve the lives of people in their communities.
"At SC Johnson, we have always believed that we should have a positive impact in communities around the world. Wherever we operate, we should help make that place better because we are there. We are proud of our partnership with Habitat for Humanity. It has enabled us the opportunity to create pathways for greater social mobility for underserved communities where we operate. Access to safe, equitable housing and hygiene facilities are essential needs for every family and we are glad to be able to support in the provision of that," said Alan VanderMolen, SC Johnson's Senior Vice President and Chief Communications Officer.
A steadfast partner of Habitat Philippines for many years, Wells Fargo has supported the construction of 21 housing units, true to its mission to advocate for diversity, social inclusion, economic empowerment and resiliency, and improved well-being through housing.
"I am proud of our community partners for doing what they have to do to build not just houses, but homes which fill a community with hope, love, and dreams to build a better future. Let us continue to aspire to make Philippine communities safer and stronger," said Sandeep Mulajkar, Country Head, Wells Fargo Philippines.
Other donors that supported the completion of the 80 houses include the JTI Philippines, Henkel Foundation, Latria Construction Company, Bloomberg, American Wire and Cable Company, Inc., and the Million Dollar Round Table Foundation.
Newly married and blessed with a new home of their own, Queenie and her husband, James, can start building their family and live comfortably and worry-free. "Nothing could express the joy in our hearts when finally, one of our dreams has become a reality. This housing project will help us raise our future children and they will remember this legacy that we built as they pass it on to future generations," beamed Queenie as she received the key to her new home.
---