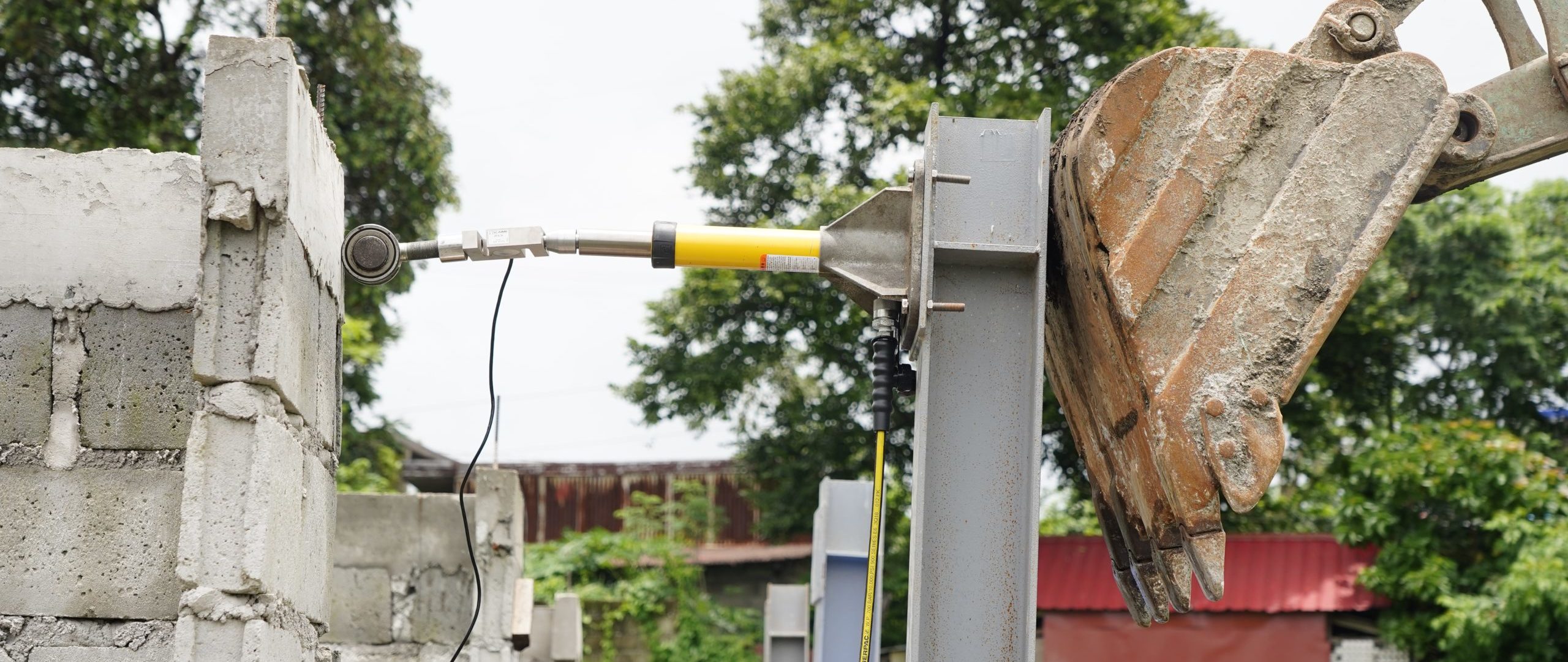 Habitat for Humanity tests innovative, disaster-resilient solutions for low-income households
Leading shelter advocate Habitat for Humanity, together with five leading institutions, tested groundbreaking solutions for a competition that aims to strengthen houses with inadequate or no foundations to withstand the threats of disasters.
In partnership with InnoCentive, SeaFreight Labs, Holcim Philippines, Inc., Hilti Foundation, and BASE Bahay Foundation, this competition is dubbed as the Habitat for Humanity Challenge: Increasing Resilience to Earthquakes and Typhoons for Homes with No Foundations. After a thorough selection and evaluation process, the top solutions were tested in Barangay Bignay, Valenzuela City, one of Habitat for Humanity Philippines' project sites, where over 300 homes will be constructed for low-income families.
Lack of adequate foundations
Ensuring that a house has a safe and sturdy foundation can help the whole structure endure life-threatening disasters. However, in the Philippines, where frequent seismic activities and around 20 tropical cyclones happen every year, over 1.6 million houses lack strong, adequate, and climate-resilient foundations, making the structures more vulnerable to destruction and putting lives at risk.
Many of these houses are owned by low-income families, who perceive that retrofitting their homes using traditional methods is either too expensive or unnecessary. Habitat for Humanity seeks to address this issue with the support of its partners, thus the birth of the challenge, which called for innovative, affordable methods that can help improve the resistance of these houses to typhoon-force winds and high-magnitude earthquakes.
Finding the right solutions
Habitat for Humanity urged solvers worldwide to submit their proposals. Out of 80 entries, four solutions have advanced to the actual field testing. Housing experts will judge them based on the following criteria: resilience against typhoons and earthquakes, availability of materials needed, ease of installation among masons and homeowners, and affordability among low-income households.
The field testing involved a "lateral load test," where the lateral forces of an earthquake and typhoon winds were simulated and applied. Using a high-capacity hydraulic jack and movement sensors, this simulation process aims to get the maximum load a structure with an applied solution can endure, how long it will take to crack, and any foundation structural failure it may exhibit.
A community acceptability survey was also conducted among homeowners, whose sentiments play a crucial role in choosing the winner.
Improving low-income housing through innovation
The top solutions presented interesting, cost-effective ways to reinforce homes.
The Foundation-Fit System aims to provide a rigid, stable base to existing Concrete Hollow Blocks (CHB) homes without the need for digging or using common concrete poured galvanized iron C-purlins. This includes lintels over doors and windows, a wall cohesion improvement scheme, and a low-maintenance anchoring system.
Another proposed solution called the Column Footing Beam Monolith claims to withstand the required gravity and special loads using isolated reinforced concrete footings with a plinth beam connecting all sides of the structure.
The Pile-assisted Kabir's Building Stabilization Method presents an innovative concept of building and strengthening homes by combining special precast miniature piles with the in-situ concrete column that will be anchored to the existing walls of the houses.
Designed to be a simple, inexpensive, and readily assembled retrofit system, the proposed Perimeter Concrete Reinforcement Retrofit for CHB Structures claims that it can be constructed with minimally skilled labor and can be applied to a wide variety of site conditions by providing a continuous reinforcing band around the base of the wall.
The winner will win 25,000 USD.
The Habitat for Humanity Challenge is a global initiative led by the organization through the Terwilliger Center for Innovation in Shelter. Aside from the Philippines, other crowdsourcing challenges that aim to help improve the quality of homes and communities around the world were also launched in Kenya, Mexico, and India, in partnership with SeaFreight Labs and InnoCentive.
Check out more photos of the field test here. For more updates about the Habitat for Humanity Challenge in the Philippines, follow @HabitatPhilippines on Facebook and @habitatphils on Twitter, Instagram, YouTube, and LinkedIn.
***
About Terwilliger Center for Innovation in Shelter
The Terwilliger Center for Innovation in Shelter, a unit of Habitat for Humanity International, works with housing market systems by supporting local firms and expanding innovative and client-responsive services, products and financing so that households can improve their shelter more effectively and efficiently. The ultimate goal of the Terwilliger Center's market systems program is to make housing markets work more effectively for people in need of decent, affordable shelter, thereby improving the quality of life for low-income households. To learn more, visit habitat.org/tcis.
About InnoCentive
InnoCentive is the global leader in crowdsourcing innovation problems to the world's smartest people who compete to provide ideas and solutions to important business, social, policy, scientific, and technical challenges. Their global network of millions of problem solvers, proven challenge methodology, and cloud-based innovation management platform combine to help their clients transform their economics of innovation through rapid solution delivery and the development of sustainable open innovation programs. To learn more, visit https://www.innocentive.com/
About SeaFreight Labs
SeaFreight Labs is an open-innovation consultancy offering turn-key crowd-solving services to the seafreight, maritime and logistics industries. We design and execute global challenges to cost-effectively deliver breakthrough innovation for intractable problems. Visit www.seafreightlabs.com.
About Holcim Philippines, Inc.
Holcim Philippines, Inc. (Philippine Stock Exchange: HLCM) is one of the leading building solution companies in the country. The Company has a deep portfolio of innovative solutions fostered by a full range of products from structuring to finishing applications that can help local builders execute with high performance and efficiency, a wide range of projects from massive infrastructure to simple home repairs.
Holcim Philippines is a member of the Holcim Group, the world leader in the building materials industry present in 70 countries with over 70,000 employees.
Holcim exists to build progress for people and the planet. As a global leader in innovative and sustainable building solutions, Holcim is enabling greener cities, smarter infrastructures and improving living standards around the communities at the heart of its success. The company is driving the circular economy as a world leader in recycling to build more with less. Holcim is the company behind some of the world's most trusted brands in the building sector including ACC, Aggregate Industries, Ambuja Cement, Disensa, Firestone Building Products, Geocycle, Holcim, and Lafarge. Holcim is 70,000 people passionate about building progress for people and the planet across its 70 markets and 4 business segments: Cement, Ready-Mix Concrete, Aggregates, and Solutions & Products.
About Hilti Foundation
The Hilti Foundation is a joint venture of the Hilti Family and the Hilti Group. With its focus area "Affordable Housing & Technology", it promotes pioneering housing solutions helping families in need improve their housing situation and start into a better, self-determinant life. To achieve its goals, the foundation engages in long-term relationships with trusted partners testing and driving innovative models and ambitious projects for sustainable impact at scale. Besides Affordable Housing & Technology, the Hilti Foundation focuses on "Music for Social Change" and Economic Empowerment to empower individuals and communities to shape their own future. For more information please visit www.hiltifoundation.org.
About BASE Bahay Foundation, Inc.
Base Bahay Foundation is a foundation that provides alternative building technologies to enable a network of partners to build quality socialized homes. Homes that are Comfortable, Affordable, Disaster Resilient, Ecologically Friendly, and with Social Impact. BASE develops technologies using locally grown and renewable materials to create housing envelops and designs suited to the needs of local communities. To learn more, visit http://www.base-builds.com/
---